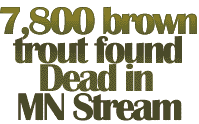 Although Minnesota state officials still don't know what killed an estimated 7,800 brown trout in a popular Minnesota stream in late July, they've found no evidence that bacteria, parasites or viruses were the cause.
Also, laboratory tests have revealed damage to the gills and internal organs of several fish taken from Hay Creek, near Red Wing, Minn., shortly after the trout died there.
That strongly suggests that the trout were victims of some type of temporary but lethal stress in their natural environment, said Joe Marcino, a fish and wildlife pathologist with the Minnesota Department of Natural Resources (DNR).
"It could have been any of a variety of environmental stresses," he said. "It could have been oxygen depletion, for example, or maybe warm water temperatures. But the exact cause is still unknown."
Marcino based his assumptions on tests done on several trout and white suckers that apparently were among the relatively few fish that survived in the affected, 2-mile stretch of Hay Creek.
An estimated 99 percent of the adult and yearling trout in that stretch died, although it's possible that some fish safely migrated out of the area, said Tim Schlagenhaft, a DNR fisheries biologist.