Join Captain Mike Barkley on the waters of Lake Michigan for an exciting day of fishing for Chinook and Coho Salmon, Brown, Rainbow (Steelhead) and Lake Trout.
You'll ride in safety and comfort aboard the Ecstasy. The "Ecstasy" is a 32-ft. Marinette Sedan Cruiser. She has plenty of comfortable, enclosed seating, including a kitchen, dining area and a fully enclosed clean washroom. She is fully equipped with the latest in state of the art electronics to help assure our fishing success.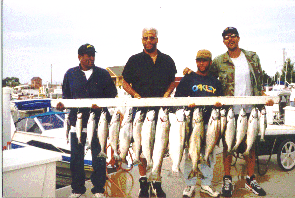 Sending another group of Ecstasy Charters customers home happy!
Capt. Mike Barkley has 23 years of experience fishing Lake Michigan. He has been a licensed Capt. for the last 17 years. And has owned and operated Ecstasy Sportfishing charters for the last 8 years. "We're very proud of the fact that the majority of our first clients are still fishing several trips a season with us!" We take pride in providing a safe, enjoyable, and productive fishing experience specialized to exceed your group's expectations.

Once you've booked your trip you'll want to bring along the following:
fishing license
(available at the boat)
camera
(to capture the memories)
soft soled shoes
warm clothes
(in case of cool weather)
rain gear & warm clothing
(just in case)
food and beverages
cooler
(to keep your catch fresh on the trip home)
sunglasses and sunscreen
seasickness preparation
We can offer some suggestions which may prevent this problem!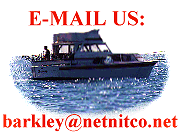 NO NEED TO BRING TACKLE!
The "Ecstasy" is rigged with the proven best quality light tackle so you can fully experience the joy of battling these fantastic Salmon and trout!
WE WILL PROVIDE:
All Fishing Tackle
Assistance with motel reservations or special requests
Fish filleted and bagged
Competitive / Fair rates
CHARTERS
We offer full day, 9 hour fishing charters for 1 - 6 people. We can arrange for additional boats for larger parties.
Special departure times can be arranged upon prior request
In case of bad weather (Captain's decision), you can choose to re-schedule your charter or your money will be refunded.
A $50.00 deposit is required with each reservation
Sight-seeing / excursion cruises are also available.
Any further questions? Please call us! We love to talk fishing and we would be pleased to give you references.
Fishing starts late March and goes through October. Prime 2000 dates are still available. Call (219) 873-0130 to book your dates today.
NORMAL DEPARTURE TIMES

Half day Trips:

Available on a very limited basis only

9 Hour Trip:

6:00 a.m. - 3:00 p.m.

We will do our best to get YOU in to an Ecstasy Sportfishing Charter picture like this one: