During a 2½ month period in 1992, undercover investigators made cash purchases of approximately 25,000 lbs. of unreported and over-quota perch from three commercial fishers.
MADISON WI-May/96
CanAm investigation concerning illegal yellow perch harvested and sold in Wisconsin's Lake Michigan waters took place during 1990-1993.
It revealed a large scale underground market for yellow perch involving several Wisconsin commercial fishers and wholesale fish dealers from Wisconsin, neighboring states, and Canada.
Investigation Background:
In 1990, the Wisconsin DNR, along with the US Fish and Wildlife Service, began a covert investigation into allegations of over-quota perch harvest occurring in Wisconsin.
An undercover wholesale fish business was established with the objective of purchasing over-quota quantities of yellow perch from target suspects. During a 2½ month period in 1992, undercover investigators made cash purchases of approximately 25,000 lbs. of unreported and over-quota perch from three commercial fishers. The investigation culminated in the spring of 1993 with the execution of seven federal search warrants. Based upon information obtained during the undercover phase, the investigation was broadened to include several more wholesale fish dealers who were allegedly purchasing large quantities of unreported yellow perch. From 1993 until the present the investigation continued with the execution of additional search warrants, inspection warrants, federal grand jury subpoenas, record review and analysis, forensic analysis, and witness interviews.
To date four commercial fishers, two crew members, and two wholesale fish dealers have entered guilty pleas and have been or are awaiting sentencing in Federal court on charges of conspiracy and/or violation of the Lacey Act. Additional federal charges in connection with this investigation are pending.
Methods and Schemes Used to Violate Commercial Fishing Laws
The investigation revealed the existence of numerous conspiracies between commercial fishers and wholesale and retail buyers to violate state commercial fishing laws. The use of sophisticated schemes to hide illegal perch sales made detection and tracking of illegal perch difficult, and in many instances, impossible for law enforcement.
Parties to the illegal transactions used fictitious identities, conducted cash transactions not reflected on books and records of the corporations, forged and destroyed invoices, laundered proceeds, and conducted counter surveillance when catching or selling perch. In most instances "terms of sale" were cash, at prices well below the prevailing market value in order to avoid creating a record of the illegal transactions. Invoices and receipts for the sales or purchases were seldom issued, and if used, were used only to cover transportation, then destroyed immediately upon reaching their destination.
This was often illustrated in undercover transactions. When an undercover officer inquired how much perch could be supplied by the commercial fisher, the fisher replied, "as much as you want but it has to be all cash, no checks. There can't be any paperwork. We can easily catch 2,000 pounds a day, 100,000 pounds a year."
In another instance a commercial fisher reiterated that he could not take a business check, or even a certified check in payment, stating, "they're too easy to track." Undercover officers were further instructed to destroy the invoices evidencing the sales and to immediately "call" the fisher if stopped or checked by law enforcement, so the fisher could then record or change the catch and sale amounts in his bi-weekly commercial fishing report. Catches and sales were often co-mingled among fishers, compounding the problem of determining to whom a particular catch or sale, or amount belonged.
In order to hide large amounts of illegal perch from the DNR, wholesale fish dealers and commercial fishers routinely agreed to file false reports, so fishers' sales report matched the wholesalers' purchase reports. Commercial fishers also held wholesale licenses in addition to their commercial fishing licenses enabling them to report sales to themselves and avoid reporting sales to the purchaser.
Tracking and accounting of illegal perch by law enforcement was further complicated by the fact that large volumes of fresh round perch are quickly converted into fillets by wholesalers, frozen, stored at off-site facilities, and sold at retail or wholesale for cash. Federal District Judge Joseph Staidmueller, who sentenced many of the defendants, recognized the difficulties investigators have in tracking the fish and stated that unlike other illegal property or contraband, "perch are a non-serialized fungible foodstuff ."
Fresh round perch were also sold in interstate and foreign commerce in order to avoid Wisconsin wholesale reporting requirements. Perch were often invoiced as a different non-quota specie of fish. Investigators found catch reporting violations occurred more frequently during the early months of the fishing season (September - December) thereby saving quota and allowing continued fishing. One defendant fisher reported catches of 20-30 lbs. per trip when actual catches were 1,500 to 2,000 lbs. Over half of the catches were not reported at all. Defendant fishers told investigators, most if not all information contained in the catch reports, including "effort" numbers, were false.
For the 1990-1993 period, investigators identified a total illegal perch harvest and sale of 402,270 lbs. This total represents approximately 44% of the total allocated quota of 918,000 lbs. during this period. Many other illegal harvests and sales were admitted to by defendants and witnesses, but specific dates and amounts could not be established by investigators and therefore are not included.
The investigation, which focused on four licensed commercial fishers holding only 7.3% of the total quota, established that those four fishers caught and sold at least 40% of the total allowable quota for the three year period. Investigators believe this is only a fraction of the unreported illegal perch harvested from Lake Michigan.
Investigators also believe the total illegal perch harvest far exceeds the 402,270 lbs. that can be substantiated. This is supported in part by the defendants' own admissions of harvest and sales. One defendant fisher, with 7,000 lb. annual quota, estimated his harvest to be at least 80,000 - 90,000 lbs. during the 1991-1992 season.
Another defendant, with a 4,300 lb. quota, estimated his illegal harvest was 60,000 lbs. per year. Defendant Norman Casey estimated the total illegal harvest for that portion of Lake Michigan from Milwaukee to the Wisconsin-Illinois border, to be 300,000 to 400,000 lbs. annually. Defendant Robert Casey estimated the total illegal harvest to be three times the allotted annual quota (306,000 lbs.) or approximately 900,000 lbs. each year.
In the words of another defendant fisher, "This is bigger than you think; almost everyone cheats on their quotas, and some cheat all the time. Things just got out of hand, we all got greedy."
Need for Adequate Enforcement Controls
It is clear from the results of this investigation the current commercial framework provides inadequate enforcement controls to provide any meaningful control of this fishery. The Enforcement Division feels that unregulated commercial fishing was a significant contributor to the collapse of the perch fishery.
Law enforcement will work with fish management staff and user group representatives to aggressively pursue changes in the commercial fishing regulations necessary to achieve effective management control of the fishery.
Such changes should consider:

1. Limiting ports where commercial fishermen may land their catches.

2. Limiting the length of season (number of days) individual fishermen have to take their quota.

3. Requiring fishermen to have at least 20,000 lbs. of quota before they may participate in the fishery.

4. Increasing license costs substantially.

5. Redefining unreported fish as "illegal" fish.

6. Rescheduling penalties consistent with the severity of violations committed, including mandatory revocation language.

7. Tightening requirements for daily catch reports.

8. Imposing additional requirements on wholesale fish dealers who are also licensed fishermen.
When WDNR Warden Supervisor Mike Vogelsang gave this report at the Upper Lakes Annual Committee Meeting in Duluth on Mar. 20, his comments were met with stoic silence by fishery managers and biologists from the Lakes Superior, Michigan and Huron Lake Committees and Great Lakes Fishery Commission representatives present that day.

COTFMA representative Tom Gorenflo later referenced Vogelsang's remarks with the comment, "Harvest is not the problem. The law enforcement report this morning placed the blame on illegal commercial harvest. This is very misleading." Interestingly, some resource managers agreed with him.

COUNCIL HOME | GREAT LAKES STATES' | GLSFC MEMBERSHIP
EXOTICS UPDATE | BASIN REPORT | PENDING ISSUES | REGIONAL REPORTS
| GREAT LINKS | HOT NEWS |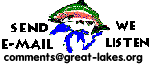 YOUR COMMENTS AND SUGGESTIONS WELCOMED!

You may also e-mail Dan Thomas at [email protected]


All contents Copyright © 1997,GLSFC All Rights Reserved.